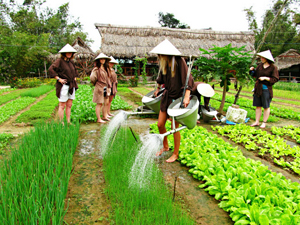 Picking passengers up to the market.
- Pick up at hotel lobby (the area of Hoi An) by bike.
- Lead customers to the market: Introducing for guest the dishes will be learned in the cooking class and the ingredients. Guests will visit lots of sale shops: Fish ( Name of fish and how to cook), vegetables ( Name of vegetables and good methods), meats (Pork, Beef), Spices (name of some spices)…..and Fruits shop.
- Continues to Tra Que herbs village.

Welcome at Tra Que:
Enjoy our Welcome drink (Special drink) before taking in these special tours:
1/ Farming tour: ( Traditional hat and Farmer's cloth)
- Visit the Vegetable village
- Tour guide will introduce the history of the village
- Visit the Tra Que herb village and riparian ecosystem of the local people as: (Picked up seaweed to fertilizer for vegetables, visit the ponds, fish, drop buffalo, chicken, duck ...)
- Join in plant vegetables together with local farmers. (picking up seaweed, digging, land boarding, making beds, tranplanting vegetables, watering
- Soak foot, relax by some herb in Tra Que vegetable garden after farming tour
2/ Rice paper making tour:
- Make the fire by yourself, hanging the molds rice paper, pour the water to oven.
- Guest will be introduced and learn how to wash the rice, soak the rice and grind the rice by traditional methods
- Learn to make rice paper and enjoy your products.
3/ Cooking class:
- Guest will learn how to make some flower, animals from tomato, carrot, marinated for some local food: Tam Huu, Local Pancake enjoy what you have cooked and some more food in the menu.
After lunch, we will return to the hotel.